Laszlo Boruta est mon premier
Tchiorny terrier.
je vivais avec 2 chiennes briardes que j'adorais, mais qui devenaient âgées.
nous avons cherché un élevage de Briards ...
nous sommes par hasard arrivés
chez un éleveur de briards
qui n'avait pas de bébés briards, mais il restait de sa première portée de Tchiorny
un mâle de 5 mois ...
nous sommes tombés amoureux de sa maman, Jenny, tellement agréable,
et nous avons adopté Lazslo le soir même !!!
Laszlo nous a donné tellement de satisfactions, de bonheur,
a été déclaré Champion de France de conformité au standard en 1997,
et meilleur de race à la Nationale d'Elevage 1999.
Depuis lors, nous sommes des passionnés de cette nouvelle race arrivée récemment en France, pour sa beauté (c'est une question de goût), mais surtout pour son caractère, fort et équilibré.
Les Tchiornys sont tellement pressés de satisfaire leurs maîtres, qu'ils en deviennent maladroits, c'est un plaisir.
Historique, standards de la Race...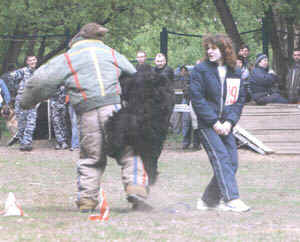 Svetlana de ZOLOTOY GRAD
défense du maître par Nikola !!!
parce qu'ils sont très réceptifs à tout apprentissage.
En Russie, les géniteurs sont obligatoirement titulaires d'un brevet de Ring.
Laszlo Boruta is my first
Black Russian terrier.
I lived with 2 bitches briardes that I adored, but that became aged.
we looked for a breeder of Briards...
we arrived by chance
at a briard's breeder
who didn't have Briards babies, but it remained of her first range of Tchiorny
a male of 5 months...
we fell so in love with his mom, Jenny, so pleasant,
that we adopted Lazslo in the same evening !!!
Laszlo gave us so much satisfactions, and happiness,
has been declared French Champion of conformity to the standard in 1997,
and best of bred (BOB) to the National of Breeders 1999.
Since then, we are crazy about this new breed that has arrived recently in France, for its beauty (it is a question of taste), but especially for its character, strong and balanced.
The Black Russian terriers are so eager to satisfy their masters, that they become clumsy, it is a pleasure.
History, standarts of Breed...

Nikola Gorynych s of ZOLOTOY GRAD
defense of the master

because they are very receptive to all training.
In Russia, the parents are inevitably holders of a Ring patent.